If you've procrastinated doing your holiday shopping for the geek in your life until now, then I'm afraid I've got some bad news for you: your options are pretty slim.
You no longer have the luxury of purchasing presents online if you want them to come in before Christmas, so you're now forced to face the crowds and lines in the world of retail, where nearly everything by now has been picked over to death.
So, to make your last minute holiday shopping a little less stressful, I've spitballed 10 ideas for some geeky gifts that may just be perfect for your loved one! And, to make shopping even easier for you, all of these gifts can be found in nationwide retail stores! Just don't blame me if they're out of stock – you're the one who waited until the last minute!
Attack on Titan Zip Up Hoodie
Available at: Hot Topic
Price: $50-56
Help the Attack on Titan fan in your life stay nice and warm this winter with a Scout Regiment hoodie! Hot Topic has quite a few different variations of the hoodie seen to your left, some with winged sleeves, some without. These hoodies may be a little pricey, but they are made of decent material and will stand not only the test of time, but the dreaded washing machine.
The former goth chain also has a variety of other Attack on Titan swag, including wallets, tanks, keychains, and full cosplay outfits.
Adult Coloring Books
Available at: Barnes and Noble, Target, Michaels
Price: $4-$15
Adult coloring books are a hot trend lately, and honestly, who doesn't love to color?! Couple a coloring book with a tall beer or glass of wine, and you've got yourself the perfect night in.
I have found that Barnes and Noble has the geekiest selection of coloring books aimed at the kid-at-heart (such as the Sherlock one I have featured here), but Target and Michaels also have a decent array, albeit not as geeky.
Bonus points: get them some amazing colored pencils to go along with it! Or wine. Wine is always good.
Star Wars R2-D2 8-pc. Measuring Cup Set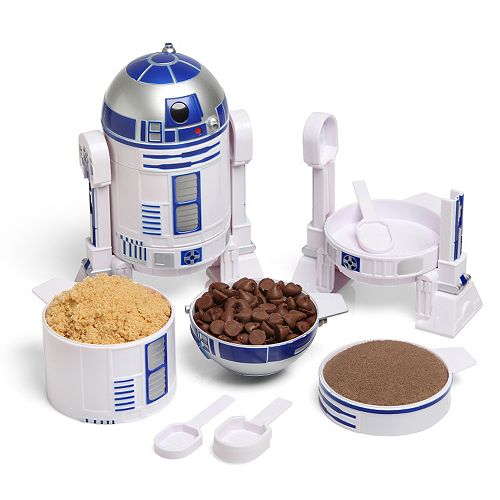 Available at: Kohls
Price: $14.99 (originally $29.99)
Why not bring a little fun into the kitchen with this absolutely adorable R2-D2 measuring cup set?
It includes a 1/4-cup measuring cup, 1/3-cup measuring cup, 1/2-cup measuring cup, 1-cup measuring cup, 1/4-teaspoon, 1/2-teaspoon, 1-teaspoon and a 1/3-teaspoon
You can rearrange the pieces when the set is not in use and store R2 on your counter, making this set truly a functional piece of fandom.
Funko Pop! Figures
Available at: Hot Topic, Target, Walmart, Barnes and Noble, Game Stop, Best Buy, etc.
Price: $8.99-$25
Funko Pop! figures are cute, geeky, and they're kind of everywhere.
Even if the geek on your list isn't a Pop! collector, these figurines are sure to find a special place in your loved one's home or office. Almost every major fandom has been recreated into chibi form by Funko, and the figurines range from mini to large, the standard size measuring at a height of 3.75 inches.
Honestly, as far as last minute geeky gifts go, this is the easiest one to pick up.
That Video Game They've Been Raving About
Available at: Game Stop, Best Buy, Target, Walmart, Sears etc.
Price: $59.99 (average price for new)
I feel like this is the really obvious choice to make around Christmas, but it's still an effective one if the geek on your list is a gamer. Plus, retailers have a HUGE supply of games this time of year, so you're pretty much guaranteed to find the latest and greatest ones in stock while you're out doing your last minute shopping.
If video games aren't your forte and you need a suggestion about what to get them, the following new releases are your best bet:
Star Wars: Battlefront (PS4/Xbox One/PC)
Fallout 4 (PS4/Xbox One/PC)
Tom Clancy's Rainbow Six Siege (PS4/Xbox One/PC)
Call of Duty: Black Ops III (PS4/Ps3/Xbox One/Xbox 360/PC)
Just make sure they don't already have the game, of course.
Hayao Miyazaki Swag
Available at: Hot Topic
Price: $4 and up
Hot Topic has an excellent selection of clothing, toys, and accessories based on classic Hayao Miyazaki films (such as Spirited Away, My Neighbor Totoro, and Kiki's Delivery Service). Their clothing is available in both men's and women's options, and if you're shopping for the latter, then I highly suggest checking out some of the absolutely adorable dresses that they have for sale.
Now this is a bit off topic from the theme of this article, but if you really want to impress the Miyazaki fan in your life, then I highly consider purchasing his collected works on Blu-Ray. This collection is exclusive only to Amazon, so unfortunately it wouldn't arrive until after Christmas, but it would make one hell of a belated present. Just some food for thought.
Star Wars Jewelry from Kay
Available at: Kay Jewelers
Price: $34.99 – $249.99
Every kiss begins with Star Wars? Okay, that may have been lame, but the Star Wars collection at Kay Jewelers definitely isn't.
Jewelry has historically been the ultimate last minute gift to get for your loved one, but with this new Kay collection, that stereotypical choice will have a delightfully geeky twist. The collection includes earrings, bracelets, bracelet charms, and necklaces.
P.S: I hope my boyfriend is reading this.
A Drone
Available at: Best Buy
Price: $39.99 -$1350.00
A flying machine that your loved one can use to take aerial shots of the roof and spy on the neighbors?
Uh, yes please.
Drones provide hours of fun, and many come standard with video cameras capable of capturing the many aerial adventures you will have. The ones with the best cameras and controls are going to cost you a small fortune, but a mid range drone without a camera can easily be rigged with a GoPro (or similar) camera.
Best Buy has a large selection of Drones for the holiday season, and they start for as little as $39.99! But of course if you do just so happen to have the means to purchase your loved one a drone costing over $1000, then please be my secret santa. Oh, and get them that drone… duh.
Fleece Super Hero Suit
Available at: Target
Price: $17.48- $24.99
Winter is officially here! So if your loved one has a thing for super heroes (or super villains), then you might want to consider getting them a fleece suit to keep them warm throughout the harsh winter months.
Target carries a selection of these suits, with styling options including Batman, Superman, Ninja Turtles, Captain America, Darth Vader. Sizes are available for men, women and children.
And want to know the best part? Almost everyone has a Target near them, and almost every Target carries these superhero fleece suits, making them the absolute perfect last minute gift.
Pretty Much Anything Star Wars
Available: Almost everywhere
Price: Depends
When in doubt, go with Star Wars presents.
Nearly every retailer is carrying some sort of Star Wars swag, be it toys, clothing, bedding, or even soup. So if your geek is a Star Wars fan, then I'm sure you'll be able to find something that they'll love.
From my own experience, I have found that Target and Kohls have great deals on officially licensed clothing, and their selections extend far past graphic tees. Plus, many of these clothing items even come with collectible tins!
I'm sure there are countless other last minute geeky gifts that I haven't thought of, so please comment below with your suggestions! Happy hunting, and happy holidays!